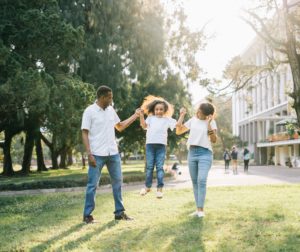 by Sharon Jones
Becoming a foster parent is much more than a responsibility towards a child you bring home. It is more like a commitment to nurturing them and influencing their personality in a positive way. Besides unlimited love, dedication and commitment, there is a lot more that you need to have to become a successful foster parent. There are some inborn qualities that make you the right person for the job while there are also some skills that you need to cultivate within yourselves. Let us know about the skills that you need to have for successful foster parenting.
Knowing how to give the most to your family and the foster child
Foster care is like a balancing act, where you have to create equilibrium between your family and the child you bring home. Once you take the leap, you are equally responsible for both of them and there is a need to ensure that none is neglected for the other. Your decision for bringing a child home should be a well-planned one, with your family being aware and involved. Aldo, you need to be prepared for the changes that the decision will bring in your life and relationships with your spouse and children. Patient is perhaps the most valuable skill that you need to have to handle the situations that may arise while the new addition as well as the family adapts to the changes.
Communication skills are equally important
Foster parenting needs you to connect and communicate with different people who will be involved in the entire process. These include the birth family of the child, the authorities in the agency, therapists, legal personnel, teachers and other school officials. At the same time, you will also need to communicate with the child, which is the biggest challenge for any foster parent. This can be tricky, particularly in case of children who come from a disturbed background. Good communication skills are greatly helpful for handling the toughest situations that you may face during the journey.
3. Ability to manage behavioral issues in children
Another key skill that you need to have for becoming a successful foster parent is the ability to manage behavioral issues in children. It is common for such children to have suffered extreme neglect or abuse in the past. This usually causes behavioral issues in them, which can make them challenging for the people who take the responsibility to foster them. The problem could get aggravated if you already have your own children at home as there may be clashes. Therefore, you should possess qualities like patience and dedication to understand the behavioral issues in the child and handle them in the right way.
Working in teams and groups
Foster care is a team job as you need to collaborate with several professionals to ensure that the child gets the best. You will need to meet the child's birth family to understand their problems and challenges so that you get a good idea to cope with the issues that the child faces. You will also have to collaborate with the people at the agency and the child's therapist to get an idea about handling your responsibility in the best possible way. Teaming up with the teachers and school authorities is another thing that you will be required to do. Also, there are several support groups that foster parents need to work with and attend seminars and workshops too. Overall, you will require the ability to work as a team with a spirit of cooperation and collaboration.
Being able to cultivate discipline in children
Whether it is about raising your biological children or foster children, the ability to discipline them is one skill that every parent must absolutely have. Indiscipline is contagious as one child can influence all others. As a parent, it is your responsibility to teach them the value of virtues like discipline, obedience and honesty. Show this by your actions rather than empty words and have the same rules for all the children in the house. Being impartial sends positive messages to both, your own children as well as the foster child.
Raising a foster child can be a truly rewarding experience in more than one ways. Read http://www.educationviews.org/giving-foster-care-a-beautiful-experience/ to know how nurturing a child can make your own life more happy and fulfilling. At the same time, you need to understand that every single day can bring new challenges and situations. Having these skills help you overcome these challenges and be a positive parent to a child who needs your love and care.