Gun violence has been a major controversy lately and that's mainly because of the recent school shootings in the country. People, especially students, are now calling for the ban of firearms but just how much of a risk does gun ownership bring to the table?  According to The Guardian, American civilians have at least 265 million firearms, which when distributed, makes it equivalent to having one firearm per American. If that is the case, you could assume that most people by now would know about the legal factors to consider when owning a firearm and the charges it involves. To shed light on that topic, we have rounded up the key things you need to know legally about firearm/weapon charges: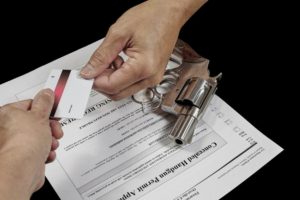 Who can own a firearm?
With over 52,026 federally licensed firearms dealer nationwide and Walmart still as the nation's largest dealer, it becomes obvious that anyone can look into guns anytime and anywhere they wanted to. With the Brady Handgun Violence Prevention Actimplementing a background check before any purchase, it requires a certain standard before you can get your hands on a firearm. Now let us dig up what exactly the main requirements are for an individual to be eligible for gun ownership:
Legal age
By federal gun laws, an individual should be of legal age, meaning at least 18 years of age, in order to be eligible for gun ownership.
The permit and license to carry firearms
Most of the states require an individual to possess a permit to carry firearms. However, some do not. In fact here is a list of some of the states where one can easily purchase a gun without a gun registration, permit, and license required to purchase firearms:
Alaska
Arkansas
Colorado
Delaware
Florida
Idaho
Indiana
Kansas
Maine
Wyoming
YOU WILL BE DISQUALIFIED FROM GUN OWNERSHIP IF:
You have renounced your US citizenship
You reside in the US illegally
You have been discharged dishonorably from the military
You are a certified drug addict
You have been convicted of domestic violence against a parent, guardian, and spouse
You have been issued a restraining order from someone by being found guilty of stalking, harassing, and threatening the individual
You have been diagnosed as mentally ill
You are a fugitive
WHAT ARE THE RIGHTS TO CARRY?
Federal laws have allowed multiple states to regulate their own laws when it comes to legally-owned firearms carried by individuals in a public setting by implementing a "Right to Carry" which falls into the following four categories:
Anomalous Open Carry States – the local government is allowed to implement restrictive open-carry laws among its people who choose to carry their guns in public.
Permissive Open Carry States –  gun owners are allowed to carry their guns in public.
Non-Permissive Open Carry States – the government will only allow the carrying of firearms in public for the main purpose of self-defense, hunting, and target practice.
Licensed Open Carry States – gun owners with a permit and license are the only ones legally allowed to do openly carry their firearms in public.
WHO CAN BE CONVICTED OF FIREARM/WEAPON CHARGES?
Minors
Anyone under the age of 18 years old, and yet has a possession of a firearm, is considered as illegal. As given by different federal laws in each state, penalties for the convicted minor will also differ as he/she can face jail time from 90 days up to 3 years, and will also be eligible to bail out for $1000 up to $100,000.
The only exception for a minor to possess a firearm is when he/she is with parents and is carrying the gun with their permission for it to be used for hunting or target practice, otherwise, it would be considered illegal.
Illegal possession of firearms
A lack of valid ID, a lack of or expired Firearm Owner's Identification Card, and inability to present a safety certificate upon purchase can subject you to penalties. You can pay from $1,000 up to $25,000 and can face up six months of jail time and up to five years of imprisonment.
Convicted Felons
Nearly all of the federal state laws prohibit convicted felons from possessing any weapons/firearms for the safety of the public. It may even take up to 10 years before a convicted felon can gain the right to possess any firearm, and he/she will also be facing 10 years of imprisonment if found with illegal possession of firearms.
Should a convicted felon wish to restore his/her rights to possess firearms, he/she may do so by involving executive actions such as a pardon from the governor and judicial actions such as expunging of records.
What can you do to be free of charges?
In order to fully avoid the charge with regards to possession of firearms, it is best that you follow the federal state laws and to always carry with you the certificates, permits, and IDs that will prove to any authority that you are indeed eligible to carry around firearms. Should anything be charged against you that you think it was violating your right, you may consult a lawyer who can help you sort through the legal procedure.
Many times, employees who are facing firearm/weapon charges are more likely discriminated in the workplace. Thus if you have legal concerns on workplace employment discrimination, you may click here to get more information.  
Anne McGee
Anne McGee has over 20 years of experience writing about law subjects where she hopes her knowledge can help the common reader understand law topics that may be of relevance to their daily lives. If she's not reading a good book, then chances are Anne is jogging during her free time.