For any outdoor enthusiasts, camping is seemingly a nice choice. However, setting up camp perfectly to enjoy wildness is not easy at all. At first, do you know how to pick the best camp-ground?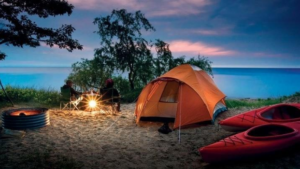 Camping – it is not a story like luxury resorts or noisy cities. By contrast, here is the enjoying with sun, wind, rain, green and blue sky. After week days being tired of boring tons of work, you pack up, begin camping days and leave rush things behind. Here is the reason why you should not let silly troubles as setting up camp annoy your trip. And followings are some tips for you to get rid of such barriers.
Ground surface
Among masses, the place which you choose to have sleep at night plays an essential part. Hence, do never disregard the step for make decision where the campsite should be. With the purpose of pitching a tend well, a flat ground with tall trees around is surely in need. It is because that you may wake up at midnight, then cram against the wall of the tent to go outsides. Therefore, such terrain will be suitable for the cases.
Moreover, choosing a camp-ground which is flat will make sure that you can enjoy a smooth sleep without dangerous protrusions. If the area is covered by sand or grass, you seem to be the luckiest camper so far. For the location as small depression, it is so nice for windy days, but the story no longer is the same as rainy ones.
Shade
Before setting up camp, there is another important thing that you have to consider much. It is the shade. Actually, it is not necessary for campers to search for the area with the shade all day long. But that is a must for the morning since the blazing sunshine in the morning likely wake you up with an annoying mood. After a day of hiking, you deserve sleep without bothering.
Especially, for campers to the desert, the shade is exactly a wonderful found. They can be a flat ground under the green or the one with brushes around. In a case that you cannot look for a satisfying area, bringing your shelter is partly an ideal option.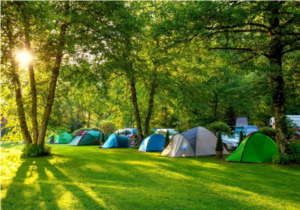 Things above
In fact, no campers want to take themselves at risk. How is it going when you see something which is looming above? For the safety, you should never place your camp under dead branches of trees with a thought that they are still safe and seem not to break immediately. The things will be the same for the area of rockslide or the one with an avalanche. Since nature is unpredictable, let make sure that you are not close to hazards like these.
Things around
The story does not tend to stop at the things above you. Another note for how you are surrounding. For example, the campsite of your decision to pitch a tent is on a water edge. There will be bugs, insects, dangerous animals are waiting for you. Hence, preparing water by your own surely help you protect your back from lugging water.
As mentioned above, a flat ground is reasonable for an amazing camp. However, your decision should be change if it is a forecast of high wind afterward. In such cases, it is undoubtful that setting a camp which is hidden behind a boulder or trees will save you.
And more, you also have to take consideration for your camp impacts. There will be no problem when you start the camping in a place which seems to be a campsite already. In spite of being endless, the wildness still needs to be preserved for the future generation.

Privacy
Sometimes, it is great for a campsite with more than two camping groups for parties or making new friends. While sometimes, you desire a quite area for relaxation and enjoying the natural beauty. Setting your camp with privacy is an opportunity of exploring the wildness. To be honest, some of you are looking for peacefulness in mind which cannot let others break out. Maybe, it is not hard to search for spots like path; you can get space for your vehicles, not be surrounded by too many campers.
Space
In addition to elements including grounds for the camp, the shade, the privacy and the safety, now it is time for you to turn to the space. Assume that you pack up and pitch a single tent, the space does not matter. It just needs a small room in nature. Alternatively, you and your friends reunite for camping parties and have nights with big tents, the space should be larger. You imagine that it will look like houses with spaces for sleeping, spaces for cooking with a lot of gears like stove, knives,… and others for recreation. Because of such purposes, it is highly recommended for you to pick spots with big flat ground as well as all elements referred above.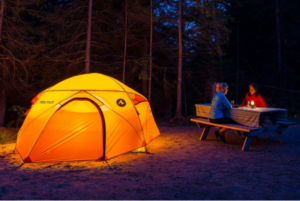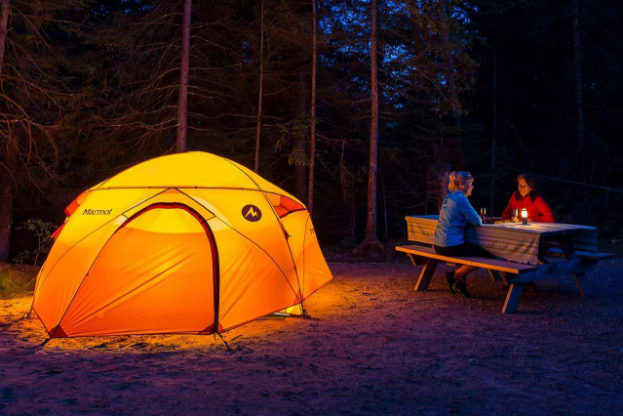 Local permission
The final thing which you must to pay attention before camping is in relation to regulations. These are different among places all over the world. Normally, the campsites are in national or state parks as well as forest or mountain. The authority of each spot has their own restriction for visitors with purpose of protecting the nature.
Forgetting to check the regulation may drive you crazy. For instance, you wake up in the morning with fresh air among the forest. Suddenly, there is a man coming and requiring you to get out from the area since you do not have a ticket.
Generally, picking the area for your campsite entails you to keep in mind which you are waiting for. Many questions as how many campers there are, whether the camp is near the water source and more should not be ignored. Besides the campground, you had to consider the gears are going along with the tent, for example, tent pole, straps or knife to cut off green hassles around before setting a camp.