Your employees are your greatest asset. Without them, you would not be able to provide the service or sell the product that makes your business so successful. The way in which a boss treats his or her employees says a lot about the culture and ethos of a business and that affects profits!
Looking after your staff is a lot more than recruitment, selection and setting up a payroll. If you want your employees to be productive and to go that extra mile for your clients, you need to show them that you value them. Here are 5 easy steps to do just that.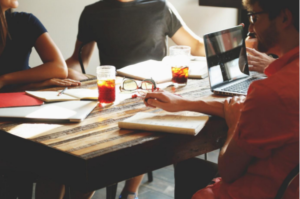 Image from: https://static.pexels.com/photos/7097/people-coffee-tea-meeting.jpg
Get to know them
Your employees have other things going on in their lives. If they are dealing with personal issues this will impact their ability to get on with the job. It is worth investing some time in getting to know your employees. If there is anything that you can do to help, such as offering flexible working arrangements for a while, then that is what you should do. They will remember what you have done for them and will be willing to help you out in a crisis with some unpaid overtime.
Don't try too hard to be 'the boss'
All your employees already know that you are the boss and that you call the shots. You will get more out of them if you make them feel that you are all part of a team rather than they are working 'for' you. You could set up a profit sharing or bonus scheme so that your employees directly benefit financially when the business does well. That way, you are all striving for the same aim.
Make the workplace a pleasant place to be
Offices and all other workplaces have to safe and comfortable to comply with health and safety legislation but you can go much further than that. Make your workplace as pleasant as possible. Give it a lick of paint, buy in some ergonomic furniture and let natural light flood in. Provide some attractive restrooms that encourage collaboration and teamwork. You could even create some attractive outdoor areas where they can go for a stroll and get some fresh air.
Provide some on-site services
Employees need to eat and drink when they are at work so make it easy for them to do so. If you are a large employer you could look into providing a subsidized staff restaurant. For smaller operations, you could have a vending machine with healthy options of a subsidized delivery service.
Have fun together
Sometimes it is not all about work. Show your employees that you understand that they need to have fun sometimes. Pay for a fun outing or a night out. Organize a family fun day and invite their families to share the entertainment and food. Lay on some complimentary yoga, Pilates or meditation classes at lunch time. This shows that you think of them as a person and not simply as a worker.  Yoga means union and it can bring your workers together.