By Sharon Jones
When it comes to making sales in the modern day world, you need to focus on aesthetic. Image sells and the key to a successful business plan is often to create a visually attractive product and advertise it in its best light. Remember, we are living in the Instagram generation where 95 million images are uploaded to the web every single day. People spend more time on their laptops, tablets and smartphones and generally make the majority of their purchases with the intent of showing off their goods online in mind. Whether you are based in a brick and mortar store or operate entirely online, the same concept applies: people tend to buy with their eyes and you need to alter your brand and products to cater to this demand. So, where to start? Design of course! Here are a few tips and tricks to help you decide where to focus your time, energy and resources.
Creating a Brand Image
Add to Flipboard Magazine.
To start, you need to become familiar with your target audience. It's time to work out the tastes and expectations of those you are planning on catering to! You can achieve this by carrying out effective market research. Market research can take the form of surveys and questionnaires, focus groups and question and answer sessions (online or in person). This will allow you to find out much more about your potential customers: you can find out your demographic's age, interests, and general preferences down to seemingly trivial details such as their favoured colours. You will then be able to implement these details into the image that your brand puts across.
Logos, Colour Scheme and Typeface
The first place to focus your efforts is your brand image itself: your logo, typeface and colour scheme. These are the aspects of your design that consumers will begin to associate with your brand. Try to keep things simple. So many businesses attempt to cram too much information, colour or pattern into their logo and end up overwhelming consumers. Stick to two or three colours at most and a simple legible typeface. Engage with a professional graphic designer who will be able to advise you further and realize your ideas. Once you have settled on a design, copyright it. Protecting your intellectual property is key to preventing fraudulent products or services using your hard work to gain a profit for someone else.
Store Design
Store design is a complex process, but will create the perfect tangible space to engage with customers face to face. Any commercial property can speak volumes about your brand: upon entering your store space, your customers should get an immediate taste of your company's services, ethics and general atmosphere. So choose every aspect of the design wisely. You could call in the help of an interior designer if you are lacking inspiration, but if you know what you want, you may well be perfectly capable of sourcing the goods to fill the space yourself. Try to stick to a neutral colour scheme for your walls so that they can act as a blank canvas to showcase your stock on. From here on out, the rest of the design is up to you. Use effective lighting to highlight pieces of stock that you want customers to pay particular attention to. Furniture can also play a huge role, not only for storage and presentation purposes, but to create a continuous brand aesthetic throughout your entire store.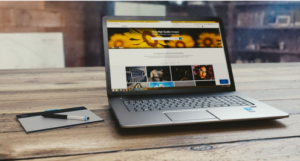 Web Design
E-commerce is one of the most rapidly expanding areas of commercial profit, so invest wisely in your online setup. It will likely be much cheaper than setting up a physical store, but requires just as much dedication. Remember, small businesses have unique web design needs, so don't just opt for the first platform, theme or layout that presents itself to you. Employ the services of professional web designers or managed web design services. This puts you into contact with a specialist team who can cater to all of your needs, crafting every single aspect of your web page on your behalf. If the results aren't exactly as you wished immediately, don't be afraid to work further on it. Much of the process will be trial and error before everything falls perfectly into place.
By being smart with your design, you can attract the interest of your target customers and associate your brand with style and good taste. People are more likely to trust that what you are selling them will be brilliant for their aesthetic and something that will be completely worth their investment.