https://www.pexels.com/photo/party-glass-architecture-windows-34092/
Add to Flipboard Magazine.
In business, there's a lot to keep track of, and a lot to manage. But when you've been doing it for years, you start to get into the swing of what to look out for - especially when you get a sense that things might be going wrong. Because you soon realize that you don't have to wait for things to hit rock bottom before you start to make a change. In fact, you can even catch things early with the help of a few fool-proof systems and measures. If you're ready to see if your business is running as it should be, or if things are on track, here are a few precautions to starting taking now.
Conduct An Audit
The word audit can invoke fear in a lot of people. But there's no reason why it should be so scary to you – especially if you're hot on business ethics and you pride yourself on doing everything above board. But, if you want to make sure that you really are on track, both as a business and financially, an audit could be useful to you. Your business will be inspected by qualified professionals to make sure that you are running right.
Hold Staff Appraisals
Sometimes, your biggest fears in your business can be with your employees. Although we'd all like to think that we're a good judge of character and that we've hired well, you can't always be too sure. But, to make sure that your staff really are beneficial to your business, staff appraisals should regularly be held. Then, you will have a record of how well they are doing, and if there are any issues. They can also be beneficial for your staff too so that they can voice concerns or become aware of their performance levels.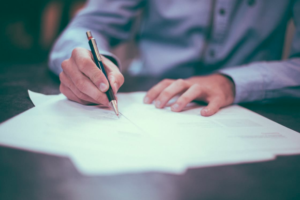 https://www.pexels.com/photo/business-signing-writing-writer-24193/
Get A Lawyer
A lot of people wait to get a lawyer when they really need them. But there can be a lot of benefits of hiring a lawyer, just because. Not only can you get legal advice on your business transactions, but you can also get contracts checked and ensure that everything is running smoothly. This might be a step too far for you financially at the moment, but it's also something to consider when the time is right.
Service Your Equipment
Just like you check over your human resources, you should be sure to do the same for your physical ones too. If you have any equipment in your business, whether you're a manufacturer with a product plant that needs checking or a haulage company in need of regular truck repairs, it should be working well at all times. Regular services can iron out any issues that could be problematic in the future.
Hire A Consultant
When you struggle to see things objectively or identify problems before they arise, you can often benefit from another perspective. That's why hiring a business consultant can be good for a lot of people. They can also take some of the pressure off you so that you are free to make decisions and progress with your business strategy and growth.