By Nigel Hilton
Photo courtesy of Pexels
The working world is often a mysterious place. At the tender age of 16, 18, or 22, you're suddenly propelled into a job, and there you shall stay until you're ready to retire. It can be a daunting prospect. At that age, not everyone knows what they want to do with their lives. Even when you get part way through your career, you still may not know. So how can you be sure that you're making the right career choice when you're only just stepping into adulthood? Sometimes, you have to listen to your inner thoughts, and admit when a change is needed.
When you've got a passion for technology, you're skilled, and you're on top of the trends, a career in tech could definitely be ideal for you. But what do you do if you're a doctor, or a teacher, or a clerk? Are you supposed to keep your passions to yourself and head into work every day ignoring the feeling that you might be in the wrong career? No, not necessarily. If you want to be able to enjoy your job, love going to work every day and feel fulfilled, moving into your ideal technology job could be your next move.
Consider Your Current Position
To work out whether or not a job jump into the tech world could really be for you, you should start out by looking at your current job. But don't just think about how much you hate it – that's not productive at all. Instead, consider why you don't like it. What is it about your current job that you don't like? What do you like about your current career? By writing this all down, you'll start to think about the things that you want out of a career.
Know What You Want
As your mind starts to weed out what you do and don't like about your career, you can then automatically work out the things you're going to need in a career choice that is right for you. Finding your ideal career path isn't easy, but knowing whether you like to be in a small office, or work on your own, whether you like creative challenges, or prefer strategy will definitely help you to see what tech-related role could work for you.
Do Some Research
With a rough idea of what kind of job role you're looking for, you're going to want to do some research. There are a whole range of career options available to you in the tech world, so you're going to want to read all about then to figure out if any appeal to you. Alongside things like IT and development, creative and design, there are also lots of managerial, strategic, administrative and even promotional roles that could work for you, so be sure to consider them all.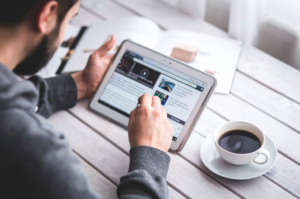 https://www.pexels.com/photo/man-using-stylus-pen-for-touching-the-digital-tablet-screen-6335/
Speak To Someone That Does What You Want To Do
At this point, you may feel like you have a whole load of options running around in your mind. It can often be confusing and all-consuming. So, to help you figure your thoughts out a little bit more, why not try to speak to someone that does the job that you might like to do? Not only can you find out what it's like to work in IT, design or development, but you'll also be able to understand the real aspects to the job that you can't find anywhere online.
Hone In On A Dream Role
Now that you've done your research and asked a few questions, you're going to want to narrow down your choices. Working in tech gives you a lot of options to consider, so you're going to want to really visualize what that dream job looks like. What will it involve? Will you be designing products, creating code, working on the business side of things or even in sales?
Understand The Prospects
With a couple of strong contenders lined up, you're then going to want to look at the typical career maps for each role. Whether it's a coder or IT technician, you're going to want to work out what the career progression looks like. Aside from the earning potential, each career choice can bring, you're also going to want to consider the end goal. If you want to be a partner in a business or even CTO, you need to be sure that your starting point can get you there.
Get Some Experience
Right now, it probably feels like you're getting closer to that dream tech career path of yours. And you more than likely are. But, in order to make sure that it's right for you, and that you can actually land a job, you might want to think about getting some experience. Doing some side projects, interning, or even freelancing are great ways to not only test the waters in a specific career but also get yourself the experience you need to get hired too.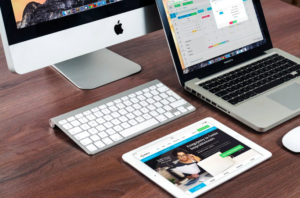 https://www.pexels.com/photo/apple-laptop-notebook-office-39284/
Make Your Resume Shine
When you know what you want your career to look like, you're going to want to start applying for jobs. But, before you get ahead of yourself, you're going to want to make sure you improve your resume. It needs to make you stand out as the best candidate for the role – whatever that is. So keep working on that experience and make yourself shine.
Network Like Crazy
You're also going to want to start networking. It's even something you might want to start doing early on, just to make connections as early as you can. Networking can not only show the industry that you're looking to join, but it can also be an excellent way to find that dream job, open up opportunities and start to make a name for yourself in technology.
Or, Jump In At The Deep End
And, of course, there's always the option to start out on your own. There are so many different options for a startup, and if you find that you have a passion for a particular thing or a strong idea for a product, why not start to explore that for yourself? That's the thing about the technology industry; it's always evolving, so there's always room to squeeze yourself in as a part of the evolution.