In order to get a job, you need one of two things: experience or contacts. If you have neither, then good luck getting a job. If you have one, then you'll have a pretty good shot. Have both, and you're probably got a career path waiting for you. Sadly, when you have neither, it can be pretty devastating and it will seem like making money online is impossible. Fortunately, that's not the case and there are plenty of ways to make a bit of money online while also learning.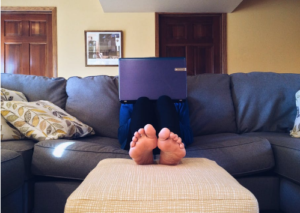 Add to Flipboard Magazine.
Photo Credit
Do simple online tasks that pay
Whether it's answering surveys, clicking links or entering data, there are simple tasks that don't require much experience at all and will actually pay out a decent amount of money to help you pay for expenses while studying something. Because most of these are monotonous tasks that involve very little thought or skill, they are perfect for coffee breaks, morning breakfast or while you're watching a film. Survey sites can be surprisingly effective ways to generate money, as shown in SurveysSay's review. Most of these simple jobs are dead-end ones that won't get you anywhere, but they're fairly decent sources of money that you can do in your spare time.
Freelancing while you learn
Freelancing is one of the best ways to make money on the internet, but it needs a small foundation to build on. For instance, if you fancy yourself as a freelance artist, then make sure you're drawing and creating art on a regular basis to help prepare your skills and inspiration for real paying jobs. Start by offering your services for free to other people or startup websites. Don't do this for too long, however. Only do it so you get a bit of cash and some recognition on social media. Freelancing can earn you a comfortable living without much experience, but you need to have the skills to back it up and a portfolio to post your work on.
Starting a blog about something
If you've always wanted to learn about a subject, then writing about it is probably the most effective way. This is because writing quality blog posts heavily depends on your knowledge on the subject. If you have no idea about sports but you're writing feature-length articles on the next big game, then you're one of two things: a complete beginner trying to make themselves look like an accomplished writer with a lot of experience or an incredibly fast learner. Most people will be the former, so make sure you're doing lots of research so you don't upset the blog readers with your lack of knowledge. Most blogging money comes from advertising revenue or banners, so make sure to associate the ads with something close to your site.
Summary
Here are just three ways of making money on the internet with little to no experience. All three of these methods allow you to continue learning something while you work, so use them as opportunities to kickstart your very own online career, be it as an entrepreneur or something with a unique and marketable skillset.